Australia, Latvia and Poland in top spots in Foil and Fin
2018-07-05
Rafał Czepułkowski
One of Poland's top windsurfers and bronze medalist from the Olympic Games in London Przemek Miarczyński is enjoying the championships
"
It's hard to say whether Foil is my future, I am already working as a coach, and this championship is my first competition in Wind Foil. Due to the fact that the regatta is in Puck, I decided to take part. I had some training earlier on foil and it is great fun, especially as the conditions have been so good during the week.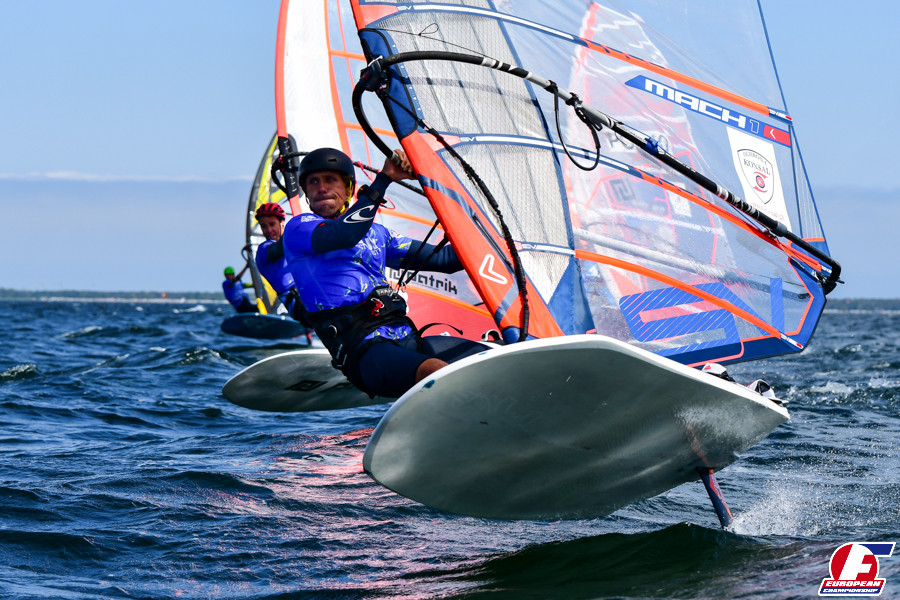 The current Olympic class is still more universal. Now it is impossible to sail in such a wide wind-range on any other windsurfing class. Foil is growing, however you need 6-8 knots to race. In the RS:X you can race in 4 knots. However if you look at the fun aspect it is incomparable. For me and for many others Foil is excellent and I do not mind if the Olympic class changes.
Regardless of whether the competitors are 70 or 100 kg, we race together in weak wind and strong. It's just a matter of choosing the equipment. We do not know yet how the equipment will develop and this aspect may change, but it seems to me that Foil is the future. Racing is a lot less physically demanding and here for example you've got windsurfing veterans joining us on the racecourse."
Przemek is third after 12 races in Formula Foil behind Janis Preiss from Latvia and Steve Allen from Australia.
In the FWC fleet it is also Janis and Steve, but swapping places 1 and 2, followed by Poland's Wojtek Brzozowski in third.
Related galleries